Congratulations to Dwayne Johnson and Lauren Hashian
Congrats to you both Dwayne Johnson or The Rock and Lauren Hashian for the wedding. The best of health and much happiness. Johnson and Hashian first met in 2006 while the actor was filming The Game Plan and started dating in 2007. They share daughters Jasmine, 3, and Tiana, 16 months.then finally after those years, Dwayne Johnson Marries Lauren Hashian
The monster Wrestling legend and Hollywood actor, famous by his name the Rock from USA, Dwayne Johnson created the buzz on the internet and social media after he shared his wedding photos on his Instagram account in August 18th, 2019.Hawaii. Pōmaikaʻi.
Speaking to PEOPLE in 2012, the Hobbs and Shaw actor said he considered himself as a lucky man for being able to find a new love again.he said : I was so fortunate to have fallen in love once," said Johnson. "To fall in love again? That's a hard thing to do twice in the position I'm in. I'm one lucky son of a bitch."
The actor who tied knot with his long-term girlfriend Lauren Hashian wrote,'We do. August 18th, 2019. Hawaii. Pomaika?i (blessed)'. The couple met in the year 2006 when Dwayne popularly known as 'The Rock' was filming his movie 'The Game Plan'. Dwayne started dating Lauren after he split from his first wife.
Dwayne Johnson or The Rock Marries Lauren Hashian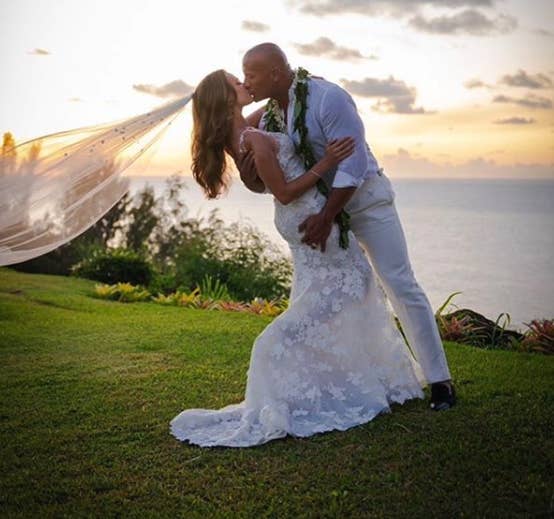 Johnson, 47, and Hashian, 34, have two children together: Jasmine Lia, 3, and Tiana Gia, 1. Johnson also has an 18-year-old daughter, Simone Alexandra Johnson, from his previous marriage to Dany Garcia, which ended in 2007, though the two remain friends.
Dwayne The Rock Johnson marries longtime girlfriend Lauren Hashian
Hobbs & Shaw': Dwayne Johnson gives us a lesson in talking smack Dwayne Johnson, aka The Rock, gives USA TODAY a lesson in talking smack. Johnson stars in the "Fast and Furious" spinoff "Hobbs & Shaw."